At Beech Hill School, it is our intent that all children develop the knowledge, skills and attributes they need to keep them safe and healthy in their life past education. Personal Social Health Education (PSHE) plays an integral role in this and, as a school, it is our belief that excellence in these areas will lead to excellence across the curriculum and beyond in later life.
How our PSHE curriculum is constructed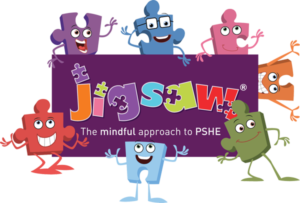 Following the Jigsaw scheme, PSHE is taught across the school from Reception – Year 6 on a weekly basis. The scheme equips children with relevant and meaningful content, which is supported through a strong emphasis on emotional literacy, building resilience and nurturing mental and physical health. Jigsaw lessons also include mindfulness allowing children to advance their emotional awareness, concentration and focus.
The Jigsaw scheme has six units that are listed below. Within each unit there are six lessons (Puzzle Pieces) that aim to provide children with:
– accurate and relevant knowledge
– opportunities to create personal understanding
– opportunities to explore and challenge a range of values, attitudes, beliefs, rights and responsibilities
– a range of skills and strategies to live a healthy, safe, fulfilling, responsible and balanced life
Jigsaw's Units of work (Puzzles) are as follows:
Being Me in My World
Includes understanding my place in the class, school and global community as well as devising Learning Charters.
Celebrating Difference
Includes anti-bullying and diversity work.
Dreams and Goals
Includes goal-setting, aspirations for yourself and the world and working together.
Healthy Me
Includes self-esteem and confidence as well as healthy lifestyle choices.
Relationships
Includes understanding friendship, family and other relationships, conflict resolution and communication skills.
Changing Me
This puzzle includes relationships education in the context of coping positively with change.
Relationships Education and PSHE Policy
Long Term Planning
For more details about each puzzle taught throughout the year take a look at the long term overview here.
Personal Development Year 1
Personal Development Year 2
Personal Development Year 3
Personal Development Year 4
Personal Development Year 5
Personal Development Year 6
Cultural Capital in PSHE
Alongside the Jigsaw scheme of work, we have a range of activities to enhance the children's PSHE journey throughout the year.
Photos