Welcome to our school counselling page. Please have a look around and find out more about how your child could benefit from the counselling service we have in school.
Meet your School Counsellor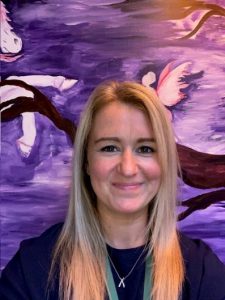 Hello, my name is Miss Moxon; I am sure you have seen me around school over the years. I began working at Beech Hill School in November 2010 as a Learning Mentor for a few years and then onto developing and working in Forest School with pupils across all year groups. In July 2021, I qualified as a Counsellor and specialised in working with children and young people as well as adults.
I love the work I do and feel privileged to be allowed into the world of the children and young people I work with. I am passionate about children receiving the support they need to allow them to be the best version of themselves in everything they do. Children know who I am and are encouraged to approach me if they need support. I keep a visual presence around school by taking part in school life over lunch times and after school clubs.
What is School Counselling?
Counselling is a safe and non-judgmental space where your child can speak to a fully qualified counsellor about anything that is bothering them. A gentle and age appropriate approach is taken where children and young people can explore their thoughts and feelings through talking, painting, playing and creating in a dedicated, private room that is cosy and inviting. I warmly encourage parents to share their understanding of their child before counselling begins so that you also feel heard. I will not judge you or your family but will look at how I can support your child.
What is a counsellor?
Counsellors are trained to listen to you without judging and to help you work through your thoughts, feelings and behaviours that may feel difficult to manage alone. They are professionally qualified and adhere to the Ethical Framework for Good Practice in Counselling and Psychotherapy, published by the British Association for Counselling and Psychotherapy (BACP). Counsellors who work with children and young people hold an additional qualification to specialise in this area of work.
Why do we have a counsellor in school?
At Beech Hill School, we take pride in being proactive for our children. This means that we use our years of experience to recognise early when children may need additional support so that they don't have to suffer unnecessarily and face bigger difficulties later on. Children attend counselling for many reasons: they may be finding it hard to learn, struggle to get along with others, have difficulties at home/school/with friends or have experienced trauma or a bereavement. This may make their feelings too difficult to manage alone or cause problems with their behaviour at home and school; there may not be an obvious cause for why children seem to be struggling with their emotions or mood and this is ok too. All children are unique; in counselling, they will be respected and treated as the individual they are. I am an integrative counsellor which means I am trained in many aspects of counselling and am able to adapt my approach to meet the needs of each unique child and young person.
What do you mean by counselling is confidential?
The information discussed in the counselling session is treated confidentially. Counselling is a space where it is ok to talk about things without fear of them being discussed elsewhere. This offers the child or young person a sense of freedom and trust in the knowledge that information will not be passed onto teachers or parents. This is paramount to form a safe and secure relationship necessary to benefit from counselling. The only time that information will be shared is if the child or someone they have discussed is at risk of harm. This will be discussed with the child first and parents will be informed in line with the school's safeguarding policy.
How can parents best support counselling?
Parents can support their child in counselling by showing that they accept it as a normal and useful activity. It helps to show interest about the parts of counselling children want to share with a respect for the bits they don't want to talk about. It is important that children are not questioned if they are not ready to share. This can be difficult for a parent at times but rest assured that I am not judging you, your family or your child but I am looking at how best to aid your child in expressing themselves and working to meet their needs so that they can thrive.
How can my child access counselling?
If you feel that your child would benefit from counselling, then please speak to your child's class teacher who is able to make a referral to the counselling service. Children in year 5 and year 6 can speak to the counsellor informally to discuss if counselling may be appropriate for them. If parents prefer, they can use the email address [email protected] to contact me directly. Parental consent is required before counselling begins and is completely voluntary as it is important that children know that they do not have to come for counselling. Parents will receive a telephone call before work begins to explore their concerns.
How do I speak to the school counsellor?
I warmly encourage parents to contact me for an informal chat about counselling before counselling begins. I am happy to answer any questions you may have and discuss if you feel that your child may benefit from counselling.
The School Counsellor can be contacted by phone, email and in person before and after school.
Email: [email protected]
Telephone: 01422 345004
Please be aware that this is a non-emergency service and emails will only be answered during school hours.