At Beech Hill School, we believe that the values of our school underpin the social, moral, spiritual and cultural development of all learners. We recognise that the holistic development of pupils plays a significant part in their ability to learn and achieve.
Therefore, we take a cross-curricular approach that provides pupils with opportunities to explore and develop SMSC so that they are prepared for life in diverse, modern Britain.
We have clear behaviour and reward systems that promote high standards of personal behaviour and teach children to take responsibility for their own actions. Our school values are rooted our school charter and our day to day practice so that we can create a positive, inclusive learning environment.
Our School Values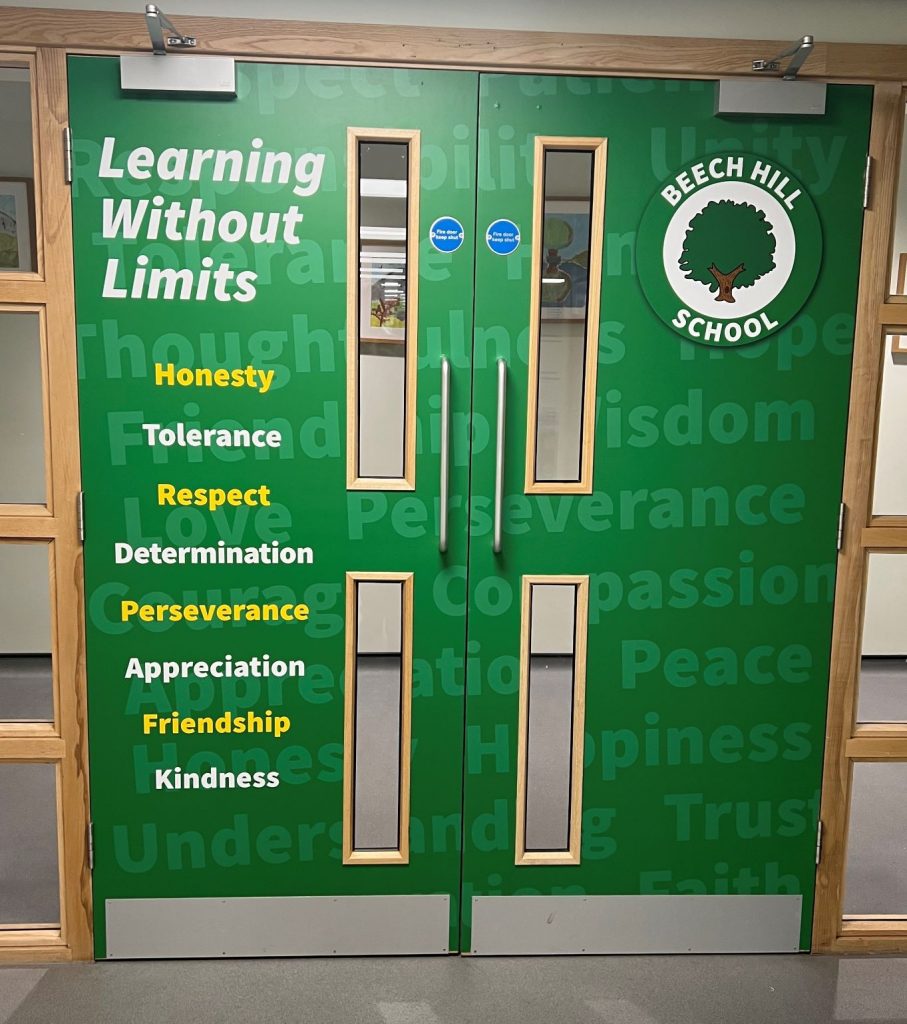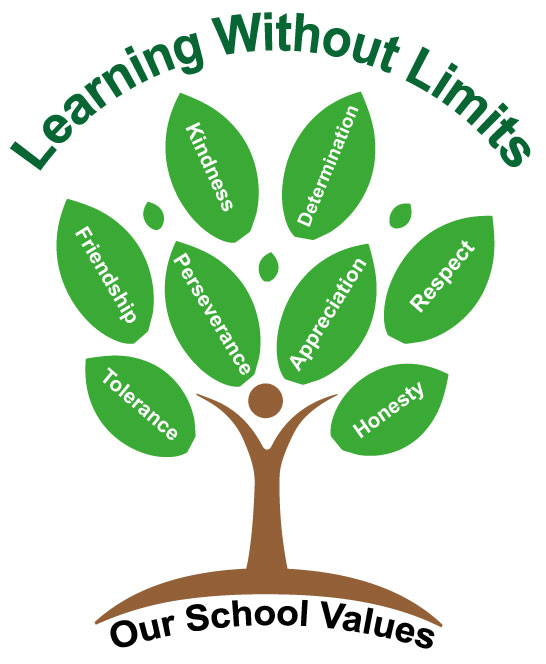 Examples of how we embed British Values at Beech Hill School:
Spiritual:
Whole school assemblies
RE mornings
Strong school values
PSHE teaching
Working walls
Creative curriculum
Residential trips
Gold Book assembly
Visits to places of worship
Museum/gallery visits
Self-assessment/peer assessment
Moral:
Rights Respecting School Council
School council elections
Consistent use of our positive behaviour system
Clear and effective behavioural policy
Charity fundraising
Good relationships between staff and children
Good relationships between children
Reward systems within each class as well as whole school reward systems
Displays of British values and school values
Social:
Christmas, Easter and Eid events
Parental events during parents' week
School council events
Educational visits
Residential trips
Sports day and other sports competitions
Special visitors in school
Displays of school values
Cultural:
Religious and non-religious educational visits
Public performances
Special visitors in school
Trips to museums and galleries
Creative curriculum – topic, RE, music and art
Displays of school values
British Values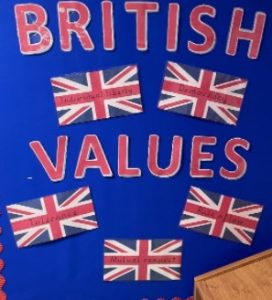 At Beech Hill School we value the diversity of backgrounds of all pupils, families and the wider school community.
The Department for Education defines British Values as follows:
Respect for democracy and support or participation in the democratic process
Respect for the basis on which the law is made and applies in England
Support for equality of opportunity for all
Support and respect for the liberties of all within the law
Respect for and tolerance of different faiths and religious and other beliefs
As a school, we value and celebrate the diverse heritage of our school community. Alongside this, we value and celebrate being part of Britain. We celebrate tradition and customs such as Harvest festival, Christmas and Easter as well as national events such as Safer Internet Day, Book Day and Hello Yellow Day. Even though our school values work in harmony with British Values, we also aim to actively promote British Values in our curriculum so that pupils are prepared for the future. Despite modelling values in everything we say and do, we explicitly discuss topics linked to the values in a weekly whole school assembly.
Further to this, children learn about Britain from different perspectives through aspects of the curriculum. Examples include learning about Britain geographically and in relation to other countries around the world through topics like 'Weather and Climate in the UK' and 'London and Europe'. Children also learn about significant moments in history such as 'Gunpowder Plot' and 'World War II' and historical figures such as 'Florence Nightingale' and 'Kings and Queens.'
Our school reflects British Values in all that we do. We aim to nurture our children on their journey through life so they can grow into safe, caring, democratic, responsible and tolerant adults who make a positive difference to British society and to the world. We encourage our children to be creative, unique, open-minded and independent individuals, respectful of themselves and of others in our school, our local community and the wider world. We are a Rights Respecting school and children learn about UN Convention on the Rights of the Child (CRC).
At Beech Hill, we actively promote British Values in the following ways:
DEMOCRACY
School Council – All children are encouraged to debate topics of interest, express their views and make a meaningful contribution to the running of the school on matters that directly involve pupils. Children also have the opportunity to have their voices heard through pupil questionnaires and pupil surveys; for example, pupils commented on choice of after school provision.
The principle of democracy is explored in the curriculum as well as during assemblies and special days.
RULE OF LAW
Our school has 'Behaviour Steps' which are integral to our learning and ethos
every day.
School rules and expectations are clear, fair and regularly promoted.
Lunchtime charter visible in hall and Rights Respecting charters up around school remind them of the UN 'rights of a child.'
Pupils are always helped to distinguish right from wrong, in the classroom, during assemblies and on the playground.
Pupils are regularly reminded about their 'Rights and Responsibilities' and the 'Rights of a child' and about how these are linked.
Pupils are encouraged to respect the law and the school enjoys visits from authorities such as the Police, Fire Service etc. to help reinforce this message.
Our behaviour policy states a zero tolerance baseline for any form of aggression, abuse or violence, which extends to pupils, staff and parents and carers.
Curriculum opportunities such as the year 6 topic on 'Crime and Punishment.'
INDIVIDUAL LIBERTY
Within school, pupils are actively encouraged, and given the freedom to make choices, knowing that they are in a safe and supportive environment. eg. by signing up for extra-curricular clubs, making choices at lunchtime.
Pupils are supported to develop their self-esteem, self-confidence and independence.
Pupils are encouraged to take responsibility for their behaviour and our pastoral support reinforces the importance of making the right choices.
Pupils are encouraged to know, understand and exercise their rights and personal freedoms and are advised how to exercise these safely, for example through our e-safety teaching and PSHE lessons.
Vulnerable pupils are protected and stereotypes challenged. A strong anti-bullying culture is embedded in the school and any form of bullying is challenged and addressed. The school also operates a robust system of logging incidents.
Pupils have key roles and responsibilities in school e.g. Year 6 monitors and prefects, House Captains, Class monitor roles, Head boy and Head girl and school council representatives in each class.
MUTUAL RESPECT
Respect and Tolerance are core values of our school. Pupils know and understand that it is expected that respect is shown to everyone, both adults and children.
Our values of Honesty, Friendship, Respect, Tolerance, Appreciation, Kindness, Determination, Perseverance are promoted across the school and are embedded in all that we do.
As a diverse pupil body, our pupils learn to accept all individuals as part of our school.
We celebrate diversity in our school through encouraging our pupils to share their experiences with each other. This is done through events such as 'Refugee week', Eid celebrations and through working on projects such as 'Light up our Lives' with organisations like verd de gris to create performances.
Our school frequently participates in learning activities which promote mutual respect including visits to a residential care home for the elderly or helping out at the local dementia café.
Pupils' behaviour and achievements are celebrated through special assemblies such as 'gold book' assemblies, MATHTAS and Values assemblies.
We promote an acceptance of everyone's beliefs, and our children enjoy learning about other cultures and faiths.
Pupils are helped to acquire an understanding of, and respect for, their own and other cultures and ways of life.
Staff and pupils are encouraged to challenge prejudicial or discriminatory behaviour.
Links and visits are promoted with local faith communities and celebrations of other faiths e.g. Eid, Diwali.
Through the PSHE and RE curriculums pupils are encouraged to discuss and respect differences between people such as differences of faith, ethnicity, disability and differences of family situations.
We offer a culturally rich and diverse curriculum in which all major religions are studied and respected and global dimension work embedded in many of our humanities topics and discrete language lessons (French). These curriculum topics offer children the chance to reflect on our core values and British Values.
Examples of British Values at Beech Hill
PD page photos