---
Beech Hill School has been rated as OUTSTANDING in all areas during the latest OFSTED inspection carried out in January 2016. It is an exciting and inspiration place. Our success stems from a relentless drive to put memorable learning experiences at the heart of all we do.
At Beech Hill we believe that every child matters. There is driving determination to ensure that pupils and adults in the school reach their full potential. Our ethos is a simple one 'Learning without Limits'
The Arts play a key role in giving every child at our school a vital channel for self expression, and we provide a wealth of opportunities for children to discover, explore and extend their natural talents within our extensive grounds, our forest school offers a magical world of discovery.
Here children learn first-hand about the riches of the natural environment whilst developing important life skills such as team work, problem solving and resilience.
Children have just one childhood; our intention is to provide them with inspirational and unforgettable learning experiences.
We place a high value on establishing close links between home and school so that we can work effectively together enabling each child to achieve their full potential.
Latest News
On Wednesday 6th September, a representative from BBC Radio 4, Andrew Bomford, came into school to work with Miss Brambani and a group of fantastic Year 3 pupils! Sujjel, Zain, Alaiza, Yasmeen, Khadijah, Aayan, Abdul and Sophie were introduced to a very poignant children's story called Grandma Forgets, written by Paul Russell and Nicky Johnston. This lovely new book, which is taken from first-hand experience, highlighted how families and children deal with the struggles of Dementia. The children were a credit to the school, offering a fantastic perspective on this very sensitive subject. Well done to all involved!
Listen back on iPlayer:
http://www.bbc.co.uk/programmes/b0930zpn
Listen to the programme from around 51 minutes. You will need to sign up for a BBC Account using an email address.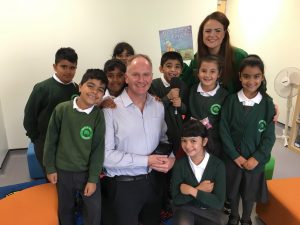 ---
We are very pleased to announce that we have been part of a successful bid by Greetland School to become a Research School supporting schools in Oldham. We have a trained research lead in our school and are excited at the opportunities that this will offer for both our children and our staff. Please see the attached press release for more information.