Our Arts curriculum is designed to progressively develop children's skills to build a bank of techniques and knowledge to enable them to become artists and musicians in their own right. Opportunities are provided frequently to celebrate the children's artistic and musical achievements. Performances to varying audiences enable the children to grow in confidence throughout their school life. Children are exposed to the work of great musicians and artists to widen their cultural experiences and to develop their appreciation of the diversity within the arts.
How our arts curriculum is constructed
Year 1-6
The planning of art and design and music for years 1 to 6 began with the National Curriculum. From the National Curriculum a comprehensive Skills Progression Document was created for art and design and music in collaboration with our artist in residence. Long term and medium term plans were then created to ensure children are exposed to a range of artists and musicians and cover all of the National Curriculum objectives. The planning of art and design and music are based on the key themes of the creative curriculum. Teachers use the medium term plans and the skills progression documents to ensure that children's art and music skills and Cultural Capital develop throughout school. Must Knows containing the key learning points and knowledge for each year group are provided to assist children with their learning.
Early Years
In early years, art and design and music aspects of the children's work are related to the objectives set out in the Early Learning Goals (ELGs), as outlined in Development Matters. These underpin the curriculum planning for children aged three to five as art and design and music makes a significant contribution to the Expressive Arts: Exploring Media and Materials and Being Imaginative. From this the Early Years Leader created a progression document with tasks planned to meet each objective and learn the skills which ensure pupils are 'curriculum ready' for Art and Design and music when they enter Year One.
Long Term Planning Art and Design
Medium Term Planning for Art and Design
Medium Term Planning for Music
The Arts Sample Must Knows
Below, are a selection of the Must Knows that we provide for each year group, for art and design and music. These Must Knows are designed to be used at home by parents as part of homework and revision, in school to supplement work in lessons and to recap previous learning. We want every pupil to be able to recall the facts given on the sheet but also to research further into the information provided. These are carefully structured so that knowledge and vocabulary are sequenced and built upon over time. We are confident that these Must Knows will help our children to develop and retain key knowledge and significantly improve their vocabulary.
The full range of art and design and music Must Knows can be found on each class' Seesaw account
Cultural Capital in the Arts

'It is the essential knowledge that pupils need to be educated citizens, introducing them to the best that has been thought and said and helping to engender an appreciation of human creativity and achievement.'
Ofsted School Inspection Handbook 2019
Cultural Capital at Beech Hill is something we are passionate about throughout all subjects. The Arts lends itself well to developing cultural capital. We are excited about developing our pupils' appreciation of human creativity and achievement.
We celebrate British and International Artists throughout the year for our pupils to gain a wider appreciation of different styles of art ensuring that a mixture of female and male artists are included. The children also experience a wide range of composers and genres of music through listening and appraising opportunities. Opportunities are built into our curriculum to visit local art galleries such as the Lowry, Salts Mill to see David Hockney's artwork and the Yorkshire Sculpture Park to explore some of Henry Moore's sculptures add to the children's cultural development.
Carefully sequenced vocabulary ensures that our children move up through our school with a vocabulary basis that can be applied to different styles of art and genres of music.
Artsmark
We are very proud to announce that in March 2020, our school was awarded Artsmark gold status by the Arts Council England. Below is what they had to say about the arts provision at Beech Hill.

Beech Hill School is to be commended on its continuing commitment to providing a wide range of high-quality arts and cultural activities. You have continued to build on the existing strong foundations across the Arts and it is good to read that a named Governor is now overviewing and actively engaging in developing artistic opportunities. You have also identified a range of measurable effects on pupil development across other areas of the curriculum, such as attainment in writing and the increased participation in art-based clubs and pupils gaining Arts Awards. High profile campaigns and initiatives such as The Year of the Woman, have helped increase pupil's confidence and aspirations, whilst challenging cultural inequity. You have also worked with a wide range of artists to provided further professional support for teachers and pupils. Pupils have been able to celebrate their skills and perform in wide range of local and regional events including at the Young Voices Manchester, Piece Hall Halifax and Dementia in Action Week. You have successfully identified a number of strands of work to develop in your Statement of Impact and you may wish to consider building a bank of case studies, where you have identified outstanding practice, which could be shared locally, regionally or nationally. You may also wish to consider ways you can catalogue the wider impact that your support programmes have had across other schools.
Congratulations on your Artsmark Gold Award!
Artists in Residence
At Beech Hill, we are fortunate enough to have 3 Artists in Residence.
They work with us every Tuesday afternoon and work with a different year group each half term . They provide high quality provision in the visual arts, dance and poetry. As well as promoting the arts as a career choice for our children, this also enables us to upskill our own teaching staff and assistants in house.
Read on to learn more about them!
Winston Plowes – Poet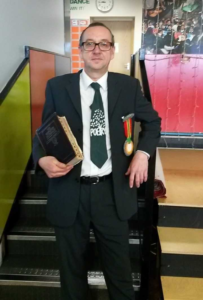 My name is Winston and I am the resident poet for Beech Hill School. You might see me proudly wearing my badges of office including embroidered poe-tree tie, knitted medal of honour and special whistle with which I introduce all my classes.
I am in school most weeks teaching year 1 through to year 6 where a Beech Hill pupil's creative writing journey ends in a special Poetry Quest. He or she gets the opportunity to perform in a show for the rest of the school. I like to make my lessons lively and engaging and we will often listen to music, examine works art, journey into the future or look back in time to inspire our writing.
We write letters, solve crossword puzzles and allow our imaginations to flourish helping us discover new ways to present our words both individually and in groups. I also work with the school in other ways as a poetry doctor, by going on school trips and taking part in other special events.
Over recent years my relationship with the school community and the work we do together has developed to the extent that it is now the most rewarding and valuable part of my work as a poet. When I'm in the classroom magical things often seem to happen and everyone has something important to say.
Jamie Boylan – Dance Artist
I am Jamie Boylan and I am a freelance dancer, teacher and choreographer based in Hebden Bridge, West Yorkshire. With a PGCE in Primary Education, I hold full QTS as well as Fellowship of the Higher Education Academy. I am a fully insured professional member of People Dancing and I am experienced at delivering dance across a range of educational contexts.
Alongside the provision of dance education for schools, I worked from 2014-2017 as a KS1 class teacher at Woodhouse Primary School and Stubbings Infant School.
From 2007-2013, I worked as a Lecturer in Technique, Choreography & Contextual Studies at the University of Central Lancashire. Other teaching credits include: The Northern School of Contemporary Dance, the Northern Ballet School and the University of Chester. I have a particular interest in the Laban/Bartenieff framework which, over the past ten years, has become integral to my artistic and pedagogic practice.
I graduated in French & Drama (1st Class) from Royal Holloway University of London and trained in dance at the École Professionelle Superieur d'Enseignment de la Danse (Montpellier, France) and London Contemporary Dance School graduating with a BA(Hons) in 2005 and an MA by Research in 2010. Working as a freelance dance artist, I have worked with Scottish Youth Dance (Y-Dance), The National Centre for Dance of Scotland, Fife-Shed Inclusive Theatre Company and I have performed with Aletta Collins Dance Company, Arty Physical Intelligence and the National Theatre of the Faroe Islands.
During the period 2009-2011 I toured a solo performance, Jumping Mouse! within the UK including including a performance at The Place Theatre for Resolution! 2011. From 2012-2015, I collaborated and performed with Orphaned Limbs Collective and in 2015 collaborated with Yorkshire based folk duo, O'Hooley & Tidow to create a dance/music film Just a Note to celebrate their nomination for the BBC Folk Awards. I am continuing to develop my artistic and educational practice through leading Arty-Physical.
Tony Bullock – Visual Artist/Art Teacher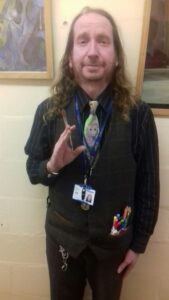 I have worked at Beech Hill since 2014 , first doing one off art days now I am happy to say I come every Tuesday and work with the young artists of every year group in Key Stage 1 and 2. I trained to be a teacher in Leeds in the 1990s and have taught for over 20 years around Yorkshire . 14 years ago, I started the job I have now Visual Arts Co-ordinator
In this job, I teach lots of young artist across the district on one off art days and weekly lessons in lots of artistic areas on lots of themes. I have always loved art from my first ever memories and now I am lucky enough to do it as a job and meet lots of great artists like you!
Art work with Mr Bullock – Year 6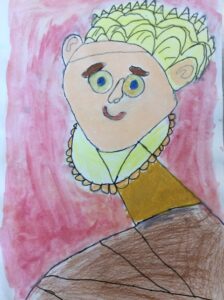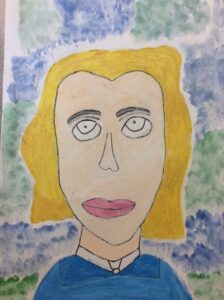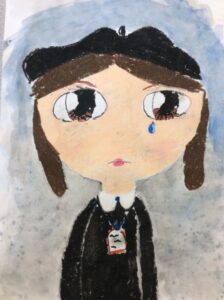 Art work across school
Year 2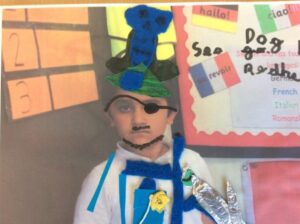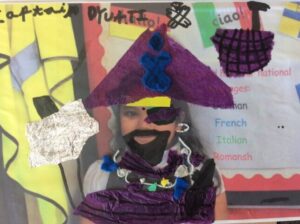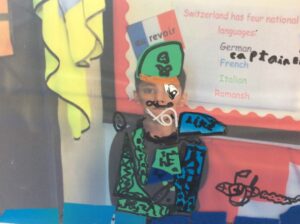 Year 3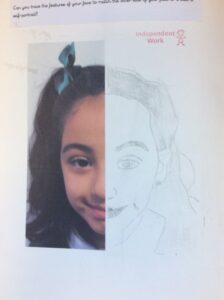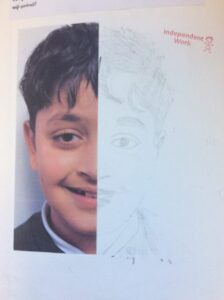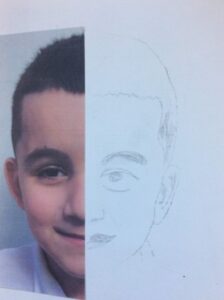 Year 5